So I thought I'd share my approach to project enclosures. This is kind of a continuation from an earlier post but thought I'd start a new thread: 3D Printed Adapter Plates For Project Boxes - #8 by jgskarda as that was a little off topic. Maybe it'll give someone else some inspiration or help on their project. Or even better if others have ideas on ways I can improve my setup or other ideas to share as well.
So I'm making a Particle Powered IoT Product that is outdoors. I wanted to use a robust weatherproof enclosure. I've been very happy with PolyCase.com for a few reasons:
High quality enclosure that is robust and USA made
Decent prices, not cheap but sometimes you get what you pay for. $10-$20 depending on size and volume.
Downloadable .STEP files of their enclosure and all components (This was VERY handy and worth it alone given my use case).
Scalable to the point where they can print and even cut holes in the enclosure. Not there yet but hopefully someday.
However, to date, I've been smaller quantity so it was a bit cost prohibitive to have them cut the holes for me. I am also in some regards prototyping so not 100% locked in on final location of each component/sensor. In the meantime, I've been learning more in the 3D printing world and CNC routing world and now have several Prusa 3D printers and recently a CNC router.
What's great is I can 3D print various polycase enclosures and also prototype various positions for the on/off pushbutton and other sensor connections. Then once I am ready, I can order the real thing from Polycase.

Even better is with having the .STEP file, I can fully model the enclosure, backplate, battery mount, buttons, PCB, etc. within Fusion 360. In this case, I 3D print the backplate/enclosure mount for the PCB and battery holder.

Since I have the entire enclosure designed in Fusion 360 it was pretty quick to make a "mold" of the enclosure to securely hold it within my CNC. I was then able to 3D print the holder to securely hold it in position within my CNC router. Just bolted the 3D printed piece to the extruded aluminum frame.

And now I'm able to precisely locate any range of mounting hole sizes and shapes within the enclosures I use for the Particle Powered projects. It's less than a minute to cut the holes. Here's a very brief video of how this is done: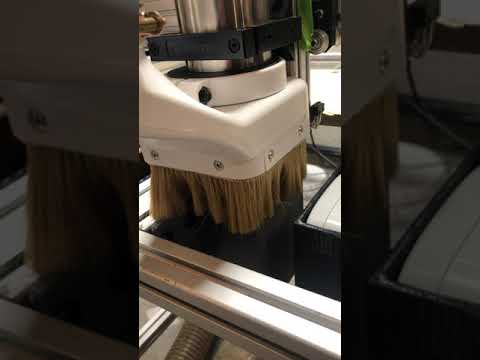 For branding of the enclosure instead of printing on it, I've been using weatherproof labels from LabelLab.com.
The combination of my own CNC router and custom weatherproof labels seemed to be a good compromise between cost/setup fees, customization/prototyping and looking like a professional product.
What are others in the Particle community doing in this space? Any other tips/tricks/suggestions? How are others with lower volume products accomplishing these things? I've seen posts on 3D printing enclosures which depending on the use case might work well. Any other ideas or methods to consider?