As a quick update… I received some more PCBs in yesterday and was able to add 10 more nodes to my bench test (13 nodes total for now). Here is what the sequencing now looks like. Notice, the Boron (bottom right) wakes up first and then starts listening to the nodes who each wake up and transmit data in sequence. Currently configured for 1.5 seconds apart to send it's data and listen for a response from the gateway. Also to note… the first two nodes are set up to be "mesh nodes" (i.e. listen for and if needed route the message). Since mesh nodes are configured to wake up with every message heard during the report window, the LED blinks each time it hears a message (one blink for the message from a neighboring node and a second blink from the gateway sending a message back to the neighboring node.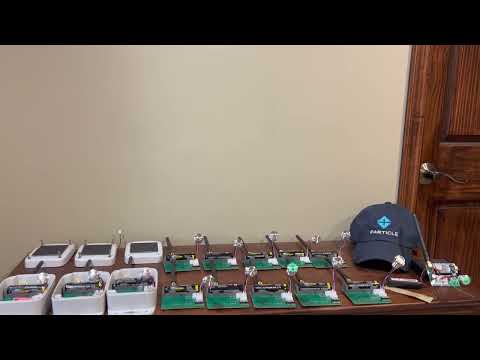 I also started logging the timestamp when a message was received by the LoRa particle Gateway and was able to plot some of that in Power BI to visualize. Each dot represents the time when a message was received by the gateway. The X axis is the macro time scale (i.e. time of the day) whereas the Y axis is the micro time scale (i.e. seconds since the beginning of the LoRa reporting period with hundredths of a second time stamp precision). Each color is a particular node. What I look for is each node must "stay in their lane" to not have messages collide. Overall it seems fairly consistent with some exceptions. I'm not 100% sure if exceptions are real or something with how I'm calculating the timestamp. All in all maybe this helps illustrate the concept:

Next steps is see what causes the outliers here or understand if those outliers are real or not. Then it's put them all in enclosures and set the system up with some distance in between them all.